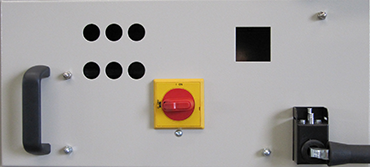 The design of mcc "am95" switchboards arises from the urgent need in the '90s to have a tool that could better adapt to the increasingly complex needs of the users and that could especially combine quality and increased safety standards with a greater flexibility, ease of wiring and set-up, as well as the possibility of having configurable modules to meet every need.
Craind Impianti Srl (www.craind.it) has been successfully operating since 1973 in the industrial field. Following the resolution of the Official Receiver of the Venice court of 31.01.2017, the company obtained the intellectual property rights of the mcc "am95" switchboards, already owned by NTZ, and has therefore the sole right to produce and market these products.
In addition to the engineering knowledge that the company already has, Craind Impianti srl has also acquired a staff with twenty years of experience on the specific product line, and intends not only to further develop the product range, but also to become an ever-present interlocutor for every customer need in this field, as it has been for over 40 years in the other existing lines of products.